SUMMARY OF LAWSUIT:
Srinivas Devathi (An Indian citizen) invents 'Cool Car Technology' with which you can change the Color of your car from any color to any other color in under 10 minutes, repeatably. USA (USPTO) issues patent on the invention (grant 22.5 Trillion value) with patent # US 8,910,998 B1, on Dec 16, 2014; and blocks invention patent grants from 61 Non-USA countries (block 70.5 Trillion value); which is a lawsuit in Bangalore City Civil Court with OS Number 4961 of 2018. The same lawsuit is being filed and taken up at ICJ (International Court of Justice) level by Inventor, as INDIA V/S USA Lawsuit.
After detailed market study and analysis, the invention 'Cool Car technology' is expected to create economic activity of well over 1000 Trillion in the next 100 years. Inventor has projected a reasonable / realistic estimated economic activity of 930 Trillion. And further is claiming only a 10% value of 93 Trillion off the realistic estimate.
USA, its USA Corporation defendants D1, D2, D3, D4 and D5 (Janssen – J&J USA, HSBC Bank USA, Capgemini USA, Hulsey Lawyers USA and USPTO) create, fabricate prior art (not mentioned in citations of the USA patent grant) and issue a fabricated ISR (International Search report) on the inventors replica PCT application (Patent Cooperation Treaty) # PCT/US2014/046619; seeking protection in global PCT contracting states / countries / territories. Based on market study, Inventor entered into national stage by filing 17 applications pointing to the PCT application, covering 61 Non-USA countries. This wealth valued at 70.5 Trillion is blocked by USA. This is the core subject matter of the lawsuit. The images of all global application numbers and their current statuses and valuation up to 93 Trillion are given below. 
EXPECTED STRUCTURE OF THE LAWSUIT TO BE FILED AT ICJ:
INDIA (on behalf of Inventor Srinivas Devathi) V/S USA (on behalf of USA Corporations and USPTO) with the following as "Effected Parties" or "Observing Parties" or "Related Parties":
Government of Canada, Government of Mexico, Government of Japan, Government of Korea, Government of Australia, Government of New Zealand, Government of Brazil, Government of China, Government of South Africa, Government of Thailand, Government of Philippines, Government of Nigeria, Government of Malaysia, Government of Indonesia, Eurasia PTO jurisdiction or Trade Union covering 8 countries (Government of Armenia, Government of Azerbaijan, Government of Belarus, Government of Kazakhstan, Government of Kyrgyzstan, Government of Russian Federation, Government of Tajikistan, Government ofTurkmenistan), and European PTO jurisdiction or European Commission / Union covering 38 countries (Government of Albania, Government of Austria, Government of Belgium, Government of Bulgaria, Government of Croatia, Government of Cyprus, Government of Czechia, Government of Denmark, Government of Estonia, Government of Finland, Government of France, Government of Germany, Government of Greece, Government of Hungary, Government of Iceland, Government of Ireland, Government of Italy, Government of Latvia, Government of Liechtenstein, Government of Lithuania, Government of Luxembourg, Government of Malta, Government of Monaco, Government of Netherlands, Government of Norway, Government of Poland, Government of Portugal, Government of Romania, Government of San Marino, Government of Serbia, Government of Slovakia, Government of Slovenia, Government of Spain, Government of Sweden, Government of Switzerland, Government of the former Yugoslav Republic of Macedonia, Government of Turkey and Government of United Kingdom), WIPO (World Intellectual Property Organization that governs PCT, the Treaty), WTO (World Trade Organization), United Nations Secretary General delegate / representation, United Nations General Assembly representation, United Nations Security Council representation, United Nations Economic and Social Council representation, United Nations Trusteeship Council representation, United Nations Secretariat representation, United Nations International Court of Justice (ICJ) representation, United Nations Geneva representation, OPEC (Organization of the Petroleum Exporting Countries) and Government of Saudi Arabia or their Kingdom delegate / representation.
I encourage everyone to visit www.Srinivasdevathi.com to read about Project Earthling©, United Nations Global Governance Model 2020©, Goal Year 2050 for India, my executed legalized Living Will for 93 Trillion which has been submitted to the Honorable Court, and more. 
95 slides of information presented to Indian media houses on 13 Jan 2020.
One page summary of the USA global fraud which is the ongoing lawsuit in Bangalore city civil court as OS 4961 of 2018.
With the fraud, USA is blocking global economic growth and India's progress & development.
Procedural fraud of USA visible to entire World, given in these three images.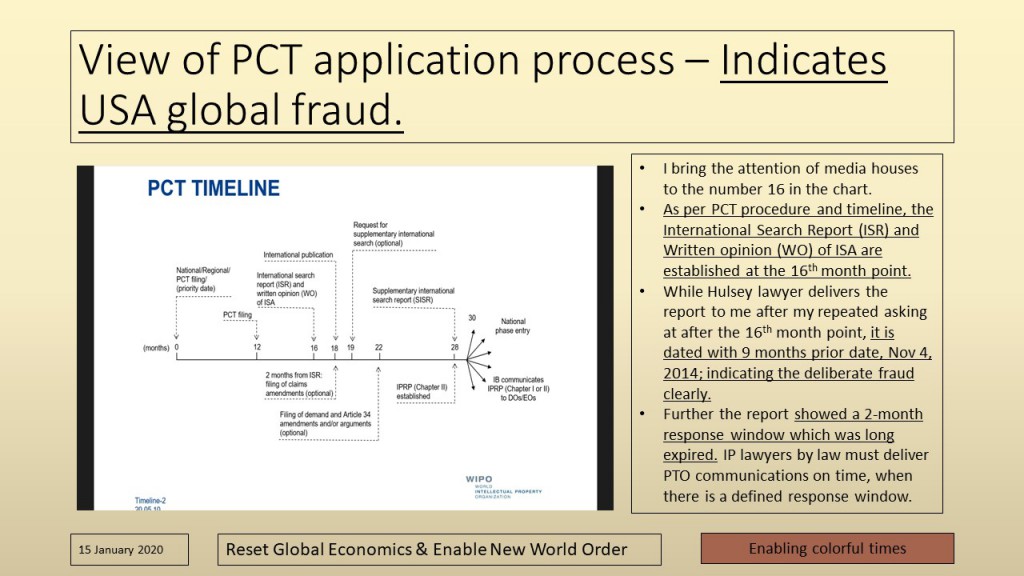 The expected 18 largest deals in the World totaling to the full value of 93 Trillion Earthlings / $s. USA is expected to resolve the fraud outlined in the lawsuit, and complete the 22.5 Trillion deal first. Following this, the other 17 large deals will be executed. The deals sorted by 'Deal value' are given in the image here.
EXPECTED MILESTONES FOR WORLDS LARGEST DEAL AT A TOTAL OF 93 TRILLION $S / EARTHLINGS
1) BY MARCH 2020 – 22.5 TRILLION $ PAYOUT DEAL WITH USA. I HAVE TWO OTHER 'INTELLECTUAL PROPERTIES' (IP) WHICH ARE RELATED TO USA TERRITORY. THESE HOWEVER ARE VERY SMALL IN THEIR VALUE (SALE PRICE) AS COMPARED TO THE 22.5 TRILLION VALUED 'VEHICLE COLOR CHANGE TECHNOLOGY PATENT'. GIVEN THAT I DO NOT INTEND TO OPERATE IN USA IN FUTURE, IF USA DEFENDANTS ASK FOR THESE TWO IP AS PART OF THE SALE, I SHALL BE HAPPY TO ACCOMMODATE THEM WITHIN THE USA DEAL PRICED AT 22.5 TRILLION. THESE IP ARE USPTO NATIONAL PATENT APPLICATION #14/610,195 – A NEXT GENERATION VERSION OF PLAYING AMERICAN FOOTBALL SPORT (APPROXIMATELY VALUED AT 100 BILLION $) AND HANDS FREE SHOPPING® REGISTERED TRADEMARK (APPROXIMATELY VALUED AT 10 BILLION $). AS YOU CAN SEE, THEIR VALUE IS NEGLIGIBLE WHEN COMPARED TO THE 22.5 TRILLION VALUE OF THE PATENT BEING SOLD. HENCE, I CAN MAKE THEM PART OF THE 22.5 TRILLION DEAL BY ADDING THEM AS FREEBIES.
2) BY DECEMBER 2020 – 70.5 TRILLION EARTHLINGS WORTH DEALS / CONTRACTS WITH 61 NON-USA COUNTRIES

 (OR 17 NON-USA PTO JURISDICTIONS) WITH PAYMENT PLAN SPANNING 15 YEARS IN TOTAL
Sequence of deals as expected in the 12 months of year 2020; in conjunction with decisive voting of Project Earthling(c), formation of Global Earthling Council, GEC to execute contracts and complete the 17 Tri-party deals with non-USA PTO jurisdictions; given in two images here.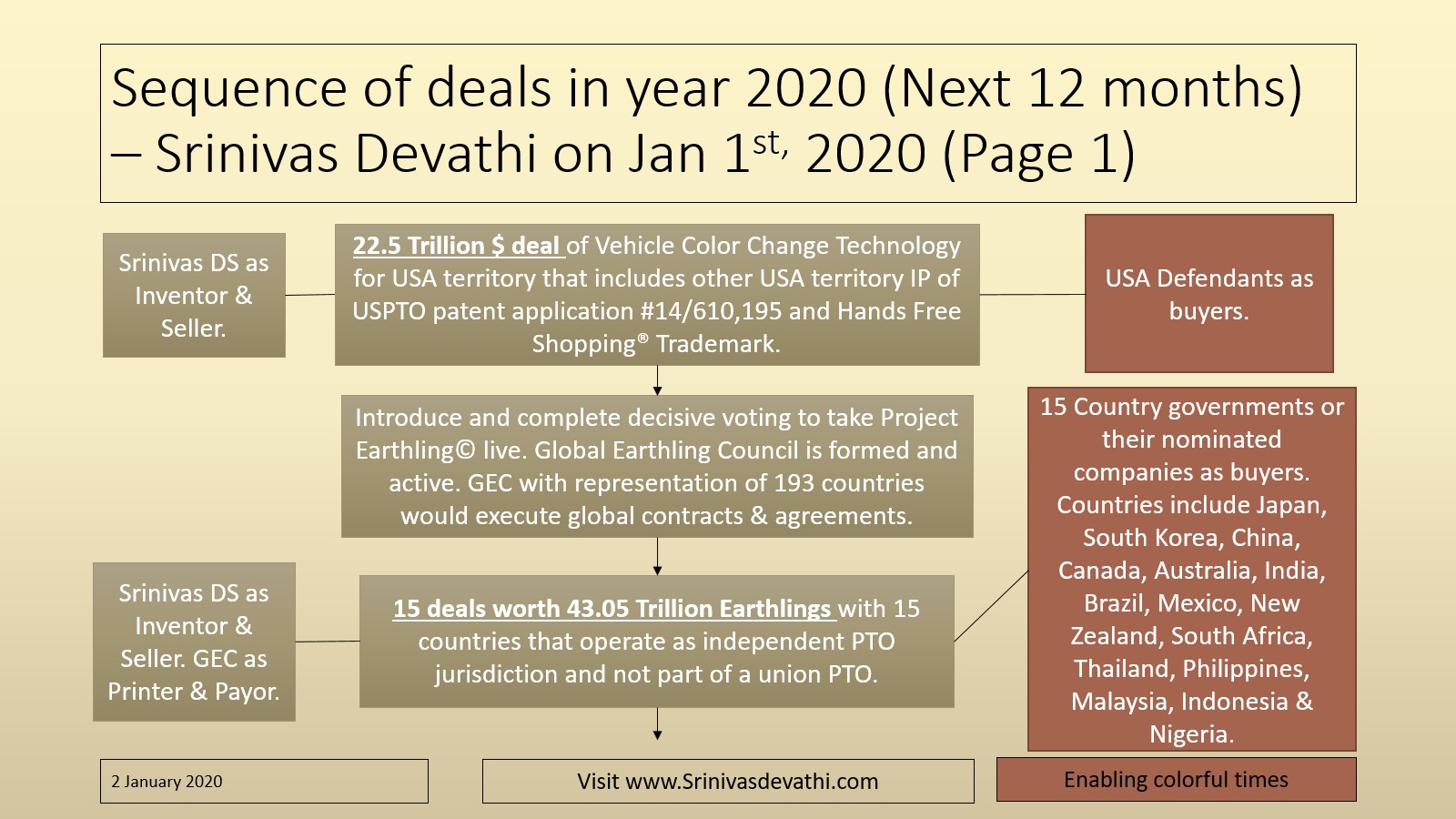 The red boxes in the above image indicate executing sale agreements / contracts at the (group) PTO jurisdiction level. As an alternate option, say for EAPO (Eurasian Patent) jurisdiction, the sale agreements / contracts could be broken down into 8 independent agreements / contracts, one each with the eight EAPO countries (Russian Federation, Kazakhstan, Belarus, Azerbaijan, Turkmenistan, Armenia, Kyrgyzstan, Tajikistan), with the combined sale price broken down in proportion to their individual country 2019 GDP numbers. The same analogy could be used for 38 EPO countries; however, I trust that EU Commission is well positioned to execute such agreements despite EPO jurisdiction having 10 countries that are not part of EU Commission. These ten countries are Albania, Switzerland, Iceland, Liechtenstein, Monaco, North Macedonia, Norway, Serbia, San Marino and Turkey.
Two images which show the 'Breakdown' of payments to be received by Srinivas Devathi (and hence India); first starting with the USA deal payment (paid in USD) and then the other 17 Non-USA deals paid in Earthlings, with upfront 20% payment in first year and the other 80% paid over 15 years. The second image shows GEC annual yield payment on the 80% value paid over 15 years at 0.5% yield rate.
If EPO deal is broken down into EC deal covering 28 countries, and 10 Non-EC countries as separate deals or contracts; it would result in a total of 11 deals out of EPO application. The breakdown of this is shown in the two images given here. The breakdown (of the sale price) is done in proportion to GDP numbers of individual countries. GDP numbers from Wikipedia were taken for calculations. The data source on Wiki stated that it was World Bank data of 2018 actual nominal GDP numbers. The largest deal would still be Srinivas-Ursula (EC – 28 countries) deal at a whopping 24.37 Trillion. Similar approach (breaking down the sale price in proportion to GDP numbers) was taken to break down EAPO deal into 8 independent deals. Excluding the USA deal, this approach would result in a total of 34 Non-USA contracts / deals. EPO and EAPO combined would result in 19 contracts / deals.
FINAL RESOLUTION OF THE LAWSUIT.
The execution & completion of the following 36 deals are the correct & expected outcome of the global lawsuit OS 4961 of 2018, linking 62 world countries. In conjunction with Project Earthling©, the following 36 deals will conclude the global IP rights entanglement lawsuit. The 36 upcoming largest deals in the World are given here. These sale prices by territory have been arrived by using 2018 nominal GDP numbers of some of the countries. We may adjust the sale prices of the territories by factoring in 2019 actual nominal GDP numbers, once they are officially available with United Nations. The number of deals went up from 35 to 36, post Brexit conclusion on Jan 31, 2020. 
A Strategy document as outlined for a UNITED INDIA. This unites Indian Government, Its Ministry of External Affairs, Indian UN Team, 1.32 Billion Indian citizens, 29 State Governments, Union territories and Patriotic Indian media houses to build India's treasury of 93 Trillion in Earthlings, by building consensus across 192 countries, on the proposed solution and transformative ecosystem as recommended by Inventor & Author Srinivas S. Devathi. The Strategy document could be accessed by View and Download buttons given here. 
Inventor and India will get unanimous support from the entire World for the 93 Trillion wealth claim (Conservative realistic estimate). All 191 non-USA, non-UK countries will vote in favor of Inventor & India. On the same lines, all 191 countries will vote for Project Earthling(c) and United Nations Global Governance Model 2020(c), unanimously.
I ENCOURAGE EVERYONE TO VISIT WWW.SRINIVASDEVATHI.COM TO READ ABOUT PROJECT EARTHLING©, UNITED NATIONS GLOBAL GOVERNANCE MODEL 2020©, GOAL YEAR 2050 FOR INDIA, MY EXECUTED LEGALIZED LIVING WILL FOR 93 TRILLION THAT HAS BEEN SUBMITTED TO THE HONORABLE COURT, AND MORE. 
VIDEO CREATED BY INVENTOR SRINIVAS DEVATHI SHOWING THE DOCUMENTED FRAUD OF USA CORPORATIONS, LAW FIRM AND USPTO BEYOND ANY REASONABLE DOUBT; ALONG WITH HIS AUDIO NARRATION. 
REMEMBER TO PAUSE THE VIDEO AT ANY POINT, TO READ THE FULL TEXT IN THE IMAGES OF DOCUMENTS.  
Video created by Srinivas Devathi pin pointing the exact reason behind why USA committed this global fraud.
Blocking wealth from an Indian citizen and India.
Inventor linking all of India to the lawsuit OS 4961 of 2018 in Bangalore City Civil Court.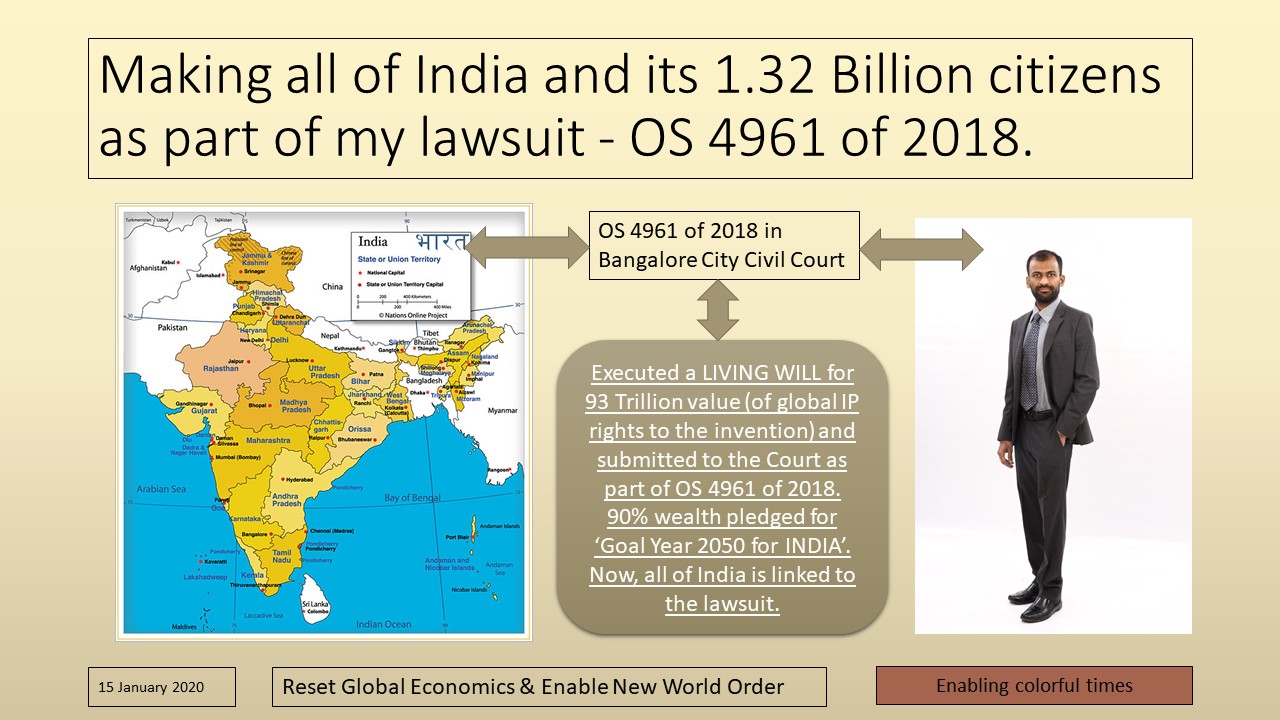 Other LEGAL POINTS indicating the fraud of USA Corporations, Law firm and USPTO:
–         1) Why they chose a Nov 4th, 2014 date on the fabricated ISR?
o   It is a date before the USA national patent grant date of Dec 16th, 2014.
o   I filed for a continuation application in USA (as encouraged by USA law firm at the time to cover claims for other sectors); on Nov 7th, 2014, with USA Continuation application number 14/535,867.
o   So, when they fabricated the prior art Cobb, Price, Saenger and Hale in Q2 of 2015; they picked a date which was before the national application grant date and also before the date when the continuation application was filed. So, they choose Nov 4th, 2014; a date before Nov 7th, 2014 (and obviously it is before the Dec 16th, 2014 date).
o   And further, they pass the ISR to me after repeated asking, on Aug 5th 2015; and to ensure Inventor had no way to file amendment or question it, they ensure the fabricated report with fabricated date of Nov 4th, 2014; was marked with two month window to respond back; which was long gone in the past.
o   The fabricated prior art, fabricated ISR with fabricated date is exposing the fraud of USA completely to the entire World without any reasonable doubt.
–          2) My 'green Card' which I received in year 2013 (to my surprise), lapsed (and was abandoned) in the month of March 2015.  After filing for my patent applications in USA, I returned to India in September 2014. If you do not enter the country (USA) back within the 180-day window, the 'Green card' lapses. I had long before decided that I would live in India all my life, because of all the events in years 2007 to 2010; and in year 2014 while in USA. So, I stayed back to pursue global IP rights and my invention from right here in India. The six-month window came due by March 2015. My GC got lapsed and I abandoned it. This also indicated to USA that all wealth would come to the inventor Srinivas Devathi and into India from this invention.
o   That is exactly when they decided to screw up the global IP rights and wealth from it to Inventor and India; which clearly indicates the timeline of Q2 2015 for the fabrication of prior art Cobb, Price, Saenger and Hale and the issue of fabricated ISR with fabricated date.
o   So, the truth is that Hulsey law firm received the ISR in July last week or first week of August, when they delivered it to me. They needed all of Q2 2015 to create, design, fabricate the prior art, insert it into USPTO database and create, fabricate the sabotaging ISR with fabricated past date along with a two month window (long gone in the past) to respond back, to ensure no opportunity was available to file a response.
o   The fraud is crystal clear for the entire World to see. Their fraud is proven beyond any reasonable doubt.
–          3) PCT application search results (ISR's (International Search reports) established by ISA's (International Search Authorities)) are typically issued by 15th or 16th month from the priority application filing date. The fact that a PCT global application ISR was issued (with the fabricated date) on Nov 4th, 2014; when the priority application date was March 27th, 2014; just within 7 months and a few days is highly questionable? It is showing deviation from the historical standard trends of when the PCT application ISR's have been established. This is another indicator of the fraud. Here are some facts about PCT application filing and their ISR's being established.
o   An inventor has 12 months from the priority national application filing date to take his invention global. Inventors generally make these decisions based on their invention's global applicability and income potential.
o   Inventor can choose any of the available ISA's (International Search Authorities) as his chosen ISA to conduct the search on his PCT global application.
o   Typically, ISA's (International Search Authorities) that conduct searches on PCT global applications, do not queue the application to an examiner at ISA, until after the 12-months from the priority date mentioned.
o   After 12 months, the PCT global application is routed to an examiner, so that the ISR is established by 15th or 16th month from the priority date.
o   The only timeline which the ISA's strive to achieve is to ensure the ISR on PCT applications are established before the 18th month point from the priority date when all documents get published by WIPO and all other PTO's.
o   So, the trend is to deliver an ISR around 15th or 16th month from priority date and before the 18th month point when all documents get published and everything has now gone into public domain.
o   The trend analysis (general gap between priority date and ISR issue date) can easily be done to verify this, by random sampling 5,000 or 10,000 past PCT applications from last 30 or 50 years, from WIPO database. The trend analysis will clearly show and prove the deviation in this case of my PCT application, thus further corroborating the fraud of USA. 
FIVE YOUTUBE VIDEOS CREATED BY SRINIVAS DEVATHI GIVING INFORMATION ABOUT THE WORLDS LARGEST DEAL, TWO GLOBAL TRANSFORMATIONS (PROJECT EARTHLING AND UNITED NATIONS GLOBAL GOVERNANCE MODEL 2020), A 'FIRE SCAM' USED BY USA, GOAL YEAR 2050, HIS LIVING WILL AND EARTHLING FOUNDATIONS. THE LAST VIDEO TALKS ABOUT AN EXEMPLARY APPLICATION TO VEHICLE COLOR CHANGE TECHNOLOGY WHICH DELIVERS ENERGY SAVINGS TO MANY COUNTRIES IN THE WORLD (SPECIALLY THE ONES WITH EXTREME WEATHER CONDITIONS); BY REDUCING THEIR HEATING AND COOLING COSTS TO MAINTAIN AMBIENT TEMPERATURE IN THE INSIDES OF THE BUILDINGS. READ PCT APPLICATION # PCT/IB2016/050994 ON WIPO PATENTSCOPE DATABASE. THE SAME COULD BE SEARCHED BY PUBLICATION ID WO2017144949. IT MUST BE UNDERSTOOD THAT THE TWO-LAYER SYSTEM (WITH SAY GLASS WOOL FILLING) COULD BE INSTALLED ON THE INSIDE OR THE OUTSIDE OF THE BUILDING WALL FOR THERMAL INSULATION. DEPENDING ON WHICH SIDE IT IS INSTALLED, THE PROPERTIES OF THE TWO LAYERS MUST BE SUITABLY ADJUSTED TO DELIVER THE REQUIRED THERMAL INSULATION. 
HERE ARE YOUTUBE VIDEOS CREATED BY SRINIVAS DEVATHI INTRODUCING PROJECT EARTHLING(C) – A GLOBAL MACRO-ECONOMIC REFORM AND A GLOBAL BANKING REFORM, FEW OF ITS BENEFITS AND ADVANTAGES TO THE WORLD, GLOBAL EARTHLING COUNCIL (GEC) AND OPENING NATIONAL TREASURY BALANCES OF THE 193 COUNTRIES (ALL WORLD NATIONS) WHEN PROJECT EARTHLING(C) AND GEC GO LIVE.

COMMENT

– THE SUBJECT OF PROJECT EARTHLING(C) IS VERY BROAD, VAST AND HAS IMPACT – BENEFITS TO ALL WORLD NATIONS AND ALL WORLD CITIZENS. I CAN ONLY INTRODUCE CONTENT IN FEW, SHORT VIDEOS. THE FULL INTRODUCTION, DISCUSSION AND Q&A OF THIS SUBJECT WILL TAKE AT LEAST TWO OR MORE HOURS DEPENDING ON THE AUDIENCE I AM ADDRESSING. I LOOK FORWARD TO THE DETAILED INTRODUCTIONS AT RELEVANT FORUMS SUCH AS UN-GGM-2020, UN – ECOSOC, WORLD ECONOMIC FORUM, GATHERING OF ECONOMISTS, ECONOMICS RELATED SHOWS ON TELEVISION OR SIMILAR, VERY SOON.
How do we find out the "True earnings" of each country? "True contribution to the World by inventions and discoveries" could be another way of identifying the true earnings that a country deserves.
Earnings on the timeline of 300 to 500 years is difficult to identify for World countries and further for USA given the unlimited printing of USD; coming up with their real earnings is near impossibility. 
So, I think it is prudent for the World to base the ranking on "Contribution to the World by their inventions and discoveries, over the last 300 to 500 years". I propose the following for countries; to take ranks or positions from 2 to 15.
Historically, European countries and USSR have contributed with a lot of inventions and discoveries to the World. Not in the same scale or league, others who may cite a few inventions or discoveries are Japan, South Korea and China.
I suggest a select list of 14 countries be short listed (out of the European nations, USSR countries and others mentioned above) based on their contribution to the World by their (citizens) inventions and discoveries in the last 300 to 500 years.
These 14 nations must sit, present and discuss their contribution to the World (based on true, real inventions their citizen(s) have delivered to the world) and share the (Earthlings) number claimed off the 15 Trillion available to be divided. At the end of these discussions, the 14 nations must come to an agreement on how much money they will take off the 15 Trillion which they will show as their country's national treasury opening balance with GEC (Global Earthling Council).
Simply put, divide the 15 Trillion number among the 14 most inventive nations in the world (based on last 300 to 500 years data of inventions and discoveries); and in an amicable, acceptable way come to consensus on their opening balance number (in Earthlings) and their rank between 2 and 15. 
All the other world nations will show their real national treasury value. Many countries may open with zero balance, which is fine. Many countries can show opening balance in the range of a million to few million also. There is no lower limit on opening balance. 
In this approach mentioned above, I think the opening national treasury balances of all countries will result in "reflecting their real earnings and real contribution to the World". This must be acceptable to all 193 countries according to me. I would be happy to provide more insights or convince any one or more nations on this approach.
December 2019; Srinivas Devathi – Inventor & Author.
IMAGE TO THE LEFT IS A SNAPSHOT OF ALL APPLICATION NUMBERS (PRIORITY, PCT AND NATIONAL STAGE), PATENT GRANT NUMBERS, FILING DATES, STATUS, WITH LAPSE OR LOST DATES.
IMAGE TO THE RIGHT IS THE LIABILITY GRID BY APPLICATION TOTALING TO FULL LIABILITY OF 93 TRILLION (FOR USA AND ITS DEFENDANTS D1 TO D5). IMAGE BELOW SHOWS THE VALUATIONS AND LIABILITY IN LOCAL NATIONAL CURRENCIES; WHICH COULD BE TAKEN UP BY INDIVIDUAL COUNTRIES AFTER USA AND ITS DEFENDANTS D1 TO D5, CLEAR THE FRAUD.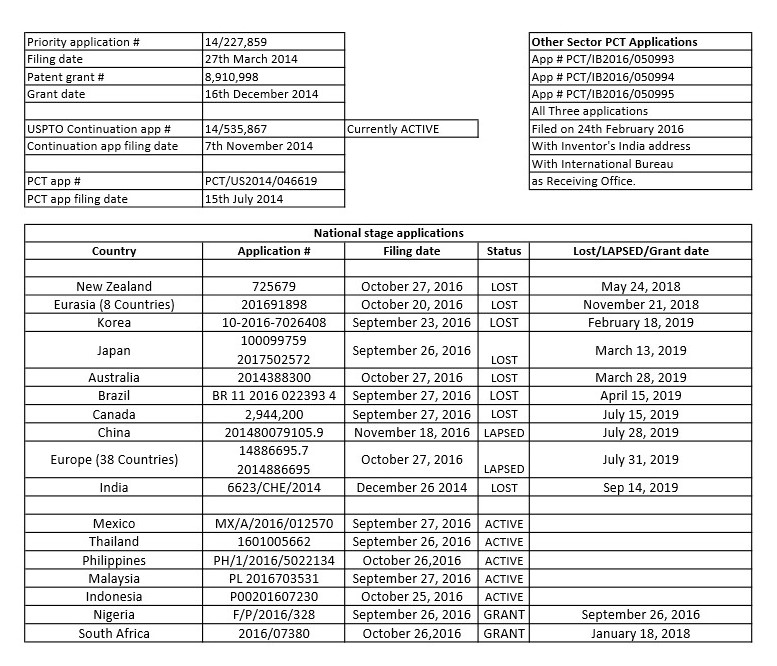 FIRST DRAFT OF THE LAWSUIT TO BE FILED AT ICJ:
Is currently in discussions with UN-India team and the Registrar at ICJ. The first draft is attached in the PDF file, which could be accessed by the Download and View button provided here. Also Download and View buttons for Cool Technology revenue potential and Lawsuit attachment documents / Exhibits are provided here. 
IN REALITY THE LAWSUIT IS A GLOBAL LAWSUIT:
It is 188 Countries (on side of INDIA) V/S 5 Countries (on side of USA) lawsuit. Here are two 'Action Steps' letters / e-mails written to United Nations SMT (Senior Management Team) And SG (Secretary General):
To, 
United Nations SG Senior Management Group; And SG at UN, Mr. Antonio Gutteras;
I want to add a few points pertaining to my earlier note. 
Due to Project Earthling© and Global Governance Model 2020, I can confidently state that me and India will rally support of around 188 countries in the world; leaving out four closest allies of USA (UK, Canada, Australia and NZ). 
Simply put, the 'Vehicle Color Change Technology Lawsuit' (valued and claiming 93 Trillion globally) between INDIA V/S USA at ICJ (International Court of Justice), Hague (with 60 other countries and 10 global organizations as observing parties); is more like a 'Growth, Progress & Development, Peace & Prosperity' Lawsuit between 188 countries in the World (on the side of India) V/S 5 other countries (on the side of USA) at ICJ. 
I am confident that United Nations SMT and SG fully endorse this TRANSITION proposal, by seeing the big picture that truly benefits the World. The first step of Transition being the division / cut-off of three units ICJ-Hague, UN-Geneva and UN-Vienna; from the current UN organizational structure, at the earliest possible date.
It would be good for USA and Mr. Trump to proactively endorse the transition; while Mr. Modi is in USA, thus saving their own face on the global stage.
It must be noted that despite 'Recommended Transition' related decisions are made or not made in Mr. Modi's visit to USA; the lawsuit at ICJ and the 'Recommended Transitions' will take place and happen due to the support of 188 countries and nearly 9 Billion people in the World.
Thanks,
Srinivas DS
THE EARLIER NOTE:
To, 
United Nations SG Senior Management Group; And SG at UN, Mr. Antonio Gutteras;
I would like to propose / suggest the following 'Action Plan'; due to the constraints, limitations and inability of the existing UN team and structure to make 'Bold decisions and moves'. 
The constraints, limitations and inability to break-away are due to the following reasons:
1) UN five organs are in NYC, USA. UN is still in the grips of USA. 
2) UN team and its expenses are paid in USD. UN is under the Financial grip of USA; like the World has been in the last 300 years. 
3) United Nations; with representations from 193 countries in the World REPORTS TO ONE COUNTRY, USA. When it should be the other way around; as in USA like the other 192 countries reporting into United Nations; with USD as only their local currency having no value anywhere else in the World. 
4) This very SMT and Mr. Antonio Gutteras report to 'White House', and USA President. 
5) USA and White House may still be resisting this transition. However, this entire team must realize that 'What is Good for the entire World, 193 countries' cannot be stopped or resisted for long'. By this, you must understand that the launch of 'Project Earthling(c)' and 'Global Governance Model 2020' are inevitable. They will happen, sooner or later. Then why delay? Why go slow? We should ideally move faster on subjects that will help the World and do good to the World. 
6) In my recent interactions with UN-Geneva team; first with Mr. Moller, next with Ms. Algayerova and now trying to reach Ms. Valovaya; I realized that the executive orders are keeping them from taking action on this transition. 
7) It was very clear to me that such 'Executive orders' or 'Permissions' were controlled or not given by White House. 
In order to enable and evolve better things into the World, we must take BOLD STEPS AND ACTIONS. 
Here is my proposed action plan: 
1) Effective the earliest date possible (say, within next week or next month definitely); Three UN offices must cut off / branch away from the old UN organization. 
2) These three offices are ICJ (International Court of Justice) in Hague, Netherlands; UN-Geneva and UN-Vienna. They must branch off / divide / cut-off from the current UN organizational structure reporting into UN head offices in NYC, USA. 
3) These three offices will set-up new project codes to track all their expenses in their respective local national currencies; from the effective date of cut-off. This is for reimbursement from 'Global Earthling Council'; in Earthlings. 
4) These three offices will start to function as independent free organizations and start to work with 'New Delhi'; to begin collaboration and transition into 'UN Global Governance Model 2020'; with the near-term first objective of introduction and launching Project Earthling(c). 
5) I can be in New Delhi to have discussions with the three offices along side with 'UN-New Delhi' team; to initiate this process, as early as next week. 
6) Finally, when Project Earthling(c) and UN Global Governance Model 2020 are fully live and active, the current UN team (frozen from new hiring) in NYC, will report back to the new structure built as Model 2020. Further, the new organizational structure and how we spread reach across the World will take shape and go live. I look forward to introducing these additional details to UN-New Delhi, UN-Geneva, UN-Vienna and ICJ-Hague. 
Can anyone from the SMT provide their response to this 'Action Plan' proposed by me? I have not started face to face interactions with UN-New Delhi team; otherwise I would have proposed this action plan to be tabled as a 'Historic decision' taken by Modi-Trump at their meeting in Houston tomorrow (I believe). Whether they take the 'Executive decision' today or tomorrow or in few days from now; this team must understand that this 'Action Plan' is a must for the good of the World and is inevitable. 
Thanks,
Srinivas DS
POSSIBLE HEARINGS AT ICJ:
Possible hearings – To be discussed in detail with Registrar at ICJ and India ICJ team, on how we can structure these as sequential hearings; in a continuous 2 to 3 months proceeding with no breaks or stops. 
Three steps with 10% of realistic numbers (at a total 93 Trillion) are shown here:  
Steps 1 and 2 are part of the same single 'Contentious Proceeding' pertaining to 'Color change technology' invention and its IP rights disbursement to 61 Non-USA countries – India V/S USA.
Step 3 will be an 'Advisory Proceeding' initiated by UNGA.  
Step One to case – USA's Color Change Technology Related Fraud of issuing sabotaging ISR and fabricated prior art. Justice to be delivered. Expected outcome – USA to withdraw / delete the issued sabotaging ISR on PCT application and issue a brand new 'Correct ISR'; and send the related correction communications to WIPO and all global PTO's. Next step within this is for USA to buy their country's IP rights and downstream businesses by paying 22.5 Trillion $ to Inventor.
Second step to case – Enable the sale / payment; and smooth disbursement of IP rights and 100 years downstream businesses to the other 61 Non-USA countries through ICJ verdict / order. In order to enable this; ICJ must order the rolling out of Project Earthling©, ensure GEC (Global Earthling Council) is formed within UN, and take Project Earthling© live. This will allow sale of IP rights and downstream businesses to 61 countries against 70.5 Trillion Earthlings payment taken by Inventor directly from GEC.
Third step to case – ICJ must listen to 'UN Global Governance Model 2020' and then pass an order to roll-out the Model 2020, as per a certain transition plan. Phase 1 and Phase 2 with deadlines. This is the last step in the case. This will deliver control of global governance to GI-50 and G-193 in the Model 2020. This will be welcomed by all the other 'Observing parties' WIPO, WTO, UN – all organs, UN-Geneva, OPEC nations and all 188 or 191 UN member nations; as it delivers an equal World, better governance, deliver better global legal framework and will ensure countries abide by law. Over to GI-50 and G-193; to govern and take the World forward. This last step ensures 'No more Global fraud attempts upon new inventions', 'No more targeting of 'Smart people, talented people, genius, first couple from other countries by USA or UK', 'No more destroy human beings and countries to retain the pole position in the World' and 'No more control, command, order and show dictatorial approach towards all World nations by USA or UK'. 
After these three steps; World is liberated, all countries are truly free and independent; and they can work on their own 'Growth, progress & development' and move towards lasting 'Peace & prosperity'.
LIVING WILL WITHOUT SIGNATURES (EXECUTED ON Sep 16, 2019) BY SRINIVAS DEVATHI PERTAINING TO 93 TRILLION WEALTH. ATTACHED IN PDF (Download and View buttons). The two images are of the executed LIVING WILL that has been legalized and submitted to court in India.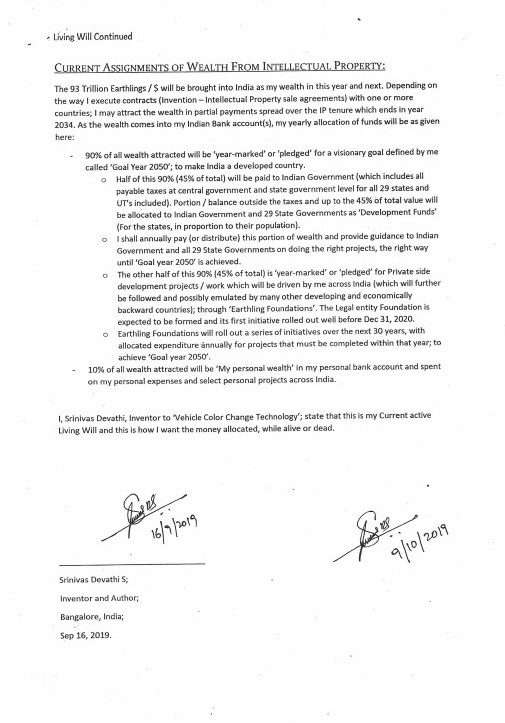 SOME LEGAL STATEMENTS RELEVANT TO MY EXECUTED LIVING WILL. ALL DETAILS (IF AND WHEN REQUIRED) WILL BE PRESENTED IN COURT; TO NEUTRALIZE ILLEGAL CLAIMANTS.
As the old saying goes, "Success has a lot of claimants". "Failure has no claimants". In my case, over the last decade (since the Vehicle Color Change Technology invention in Q1-2007), many people have attempted to become "Illegal claimants", "Unlawful, unjust claimants", "False claimants", "Claimants by creating & fabricating lies, false stories, false audios, false videos, false audio-visuals, created videos post drugging me". The list of people involved in this "Illegal false claimants" begins with every American Citizen, every UK citizen (thanks to the coordinated way they all work and dance to the tunes of USA Corporations who are defendants in the court case) and due to their bribes in India, the USA defendants have tried to influence many from Bangalore University, many from Indian IT Industry, they may have influenced my childhood friends, possibly college friends, might have influenced even my divorced wife & her family. They might have even tried to reach out to some of my cousins & their families to influence them negatively. Do not believe illegal claimants and/or their illegal, false statements. Stick to the true fact of me being the true inventor to Vehicle Color Change Technology.
Additionally, I would like to add that "PRIVACY INVASION IS PUNISHABLE BY LAW". The USA defendants (individual people names listed in court plaint) and their allies (some NRI's who are experts in privacy invasion and generally used by USA defendants as pawns) might have attempted to invade my 'Private life' and manipulate it. They have not confronted me with such content, as their "RAMPANT LAW BREAKING" would become visible to the entire World, all 9.5 Billion people and all 193 countries at United Nations. I would be happy to expose their treachery to the entire World, all 193 countries at UN.
Anyone and everyone who have attempted to be "Illegal claimants" to my invention or its wealth, who might have done privacy invasion or attempting to do it, who might have or attempting to drug me and/or frame me, will all be taken for their mental evaluation and psychiatric treatment, to cure their diseases of lack of logical reasoning, for privacy invasion, attempting illegal fraudulent claims and most importantly anti-India (treason) sentiment or actions.
In case of 'Privacy invasion', law breakers are the ones who physically installed cameras or bugs or other devises to invade privacy. Such law breakers are firstly adults who are legally accountable and responsible for their own actions. And such law breakers cannot hide behind some fictitious stories, random stories, fabricated stories or lies that they seem to believe or make others believe. A law breaker is a law breaker who is punishable by law. It's like a murderer, criminal or thief justifying his actions (of law breaking) by citing random reasons. The truth is 'you broke the law', you cannot hide behind random reasons and will be punished by law.
The above legal statements have been made to provide clarity to everyone in the World about my invention of Vehicle Color Change Technology, and that I am the TRUE INVENTOR and the ONLY inventor. Many have tried lies, creating false stories, drugging me to frame me and much more to make 'illegal claims' and all such claims must be rubbished, and the truth must be known to the World. In the end LAW SHALL PREVAIL IN THE WORLD.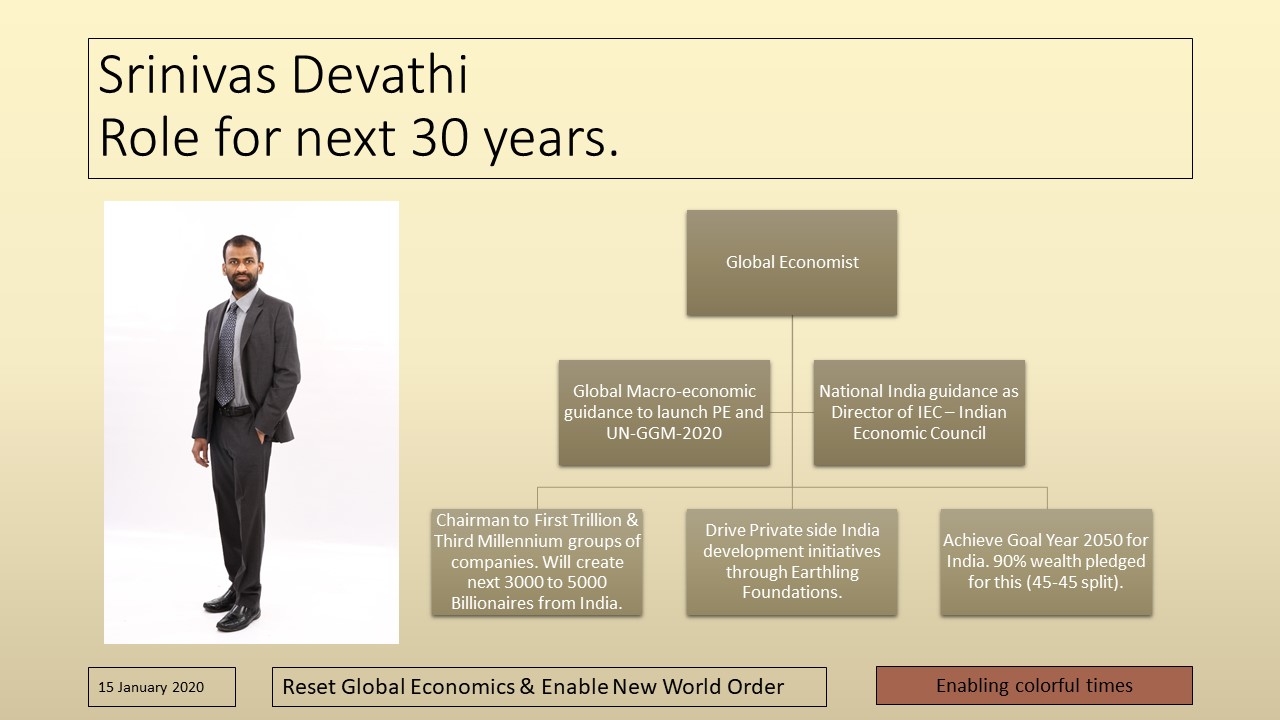 Earthling Foundations:
Their importance to India and World. 
Analysis of the World's Largest deal:
Unprecedented challenges faced by Inventor:
This is the first time one person has faced such unprecedented challenges. Kindly understand the dynamics of this 93 Trillion Earthlings invention. Only USA and UK could bribe against an invention this size, and again the reason is their unlimited printing of currency option (for centuries) and mixing it into the global trading system. So, consider this – What is the amount you can throw as bribes to steal 70.5 Trillion or 93 Trillion. For starters, unbelievable numbers like 100 Billion, 500 Billion, 1 Trillion and even 2 Trillion could be considered as a 'BRIBE' to lobby people at different levels. These people could be state government people in India, even Central Government could be offered such a bribe (by USA or UK), Indian companies, rich people, celebrities come next in line to offer such bribes. Among the bribing options mentioned, USA picked the 500 Billion $ number as their favorite bribing number in the form of India's 'favorite metal – GOLD'; by offering a 500 Billion $ Gold reserve to any state to make them all fight against each other. Indians are fond of Gold and women like Gold ornaments. So, they used this 'Carrot dangling option' of 500 Billion $ Gold reserve across south Indian states (where the gold craze is probably even higher) and even in Northern states and made them fight for it. Again, I cannot factually prove this in court; however, I know that it has been done.
Indians must understand that 500 Billion is a 'Carrot dangled' to 'Misdirect India' to steal 93 Trillion. Will India fall for this trap? How will anyone show the earnings for a '500 Billion Earthling' Gold reserve in India? Only a person who has earned it fair and square, will be able to publicly put up his earnings (on a public portal) and declare such large earnings. In this regard, all of India must understand that I, Srinivas Devathi, Inventor to 'Color change technology' can show income of 93 Trillion Earthlings in accounted money; pay taxes on it and put all my wealth details and foundation details on public portal for everyone to see. It is a different matter that 'Gold Bonds' maybe part of my investment portfolio; while I may not build a 'Gold reserve' until myself and Indian government feel that we have done enough work for India and that we could now build a gold reserve.
Basic point: Do not fall for the bribes / traps in the scale of 500 Billion, 1 Trillion or even 2 Trillion Earthlings / $ (this is as far as they may go); as you are being cheated. If you understand the big picture, you (every Indian citizen, every state government, Indian central government) will refuse such offers and provide me full support to get the complete wealth into this country.
Other tactics used:
USA and UK have used every possible tactic, strategy to destroy the Inventor and India's wealth prospects. All things listed here are real facts that have happened; however, I may not be able to prove all of them in the Court or at ICJ. Some of the strategies taken by USA and UK are listed here:
Bribing at various levels within city, country and internationally; as the invention is valued at 93 Trillion when GDP's of countries are at 18, 10, 2.7 Trillion. This has been done in the last 12 years. I have put an end to it by introducing Project Earthling©.
Isolation strategy – Inventors friends and family may have been ordered, forced or bribed to move away and keep distance. Though this isolates the Inventor; after analysis, I feel that it works better this way when an inventor has invention(s) in this scale. The distance from any legal heirs or claimants will protect both parties. E.g., If I were to eat food at their homes, and something were to happen, they get into legal problems given the wealth in my name. So, the isolation may help both parties; given the valuation of the invention made.
Neighbors in (residential) neighborhood bought out and may have been used to set-up with Thermal Imaging machines, audio recording, Video recording equipment to record the events in Inventor's house. In fact, neighbors could even be relocated and new neighbors (people who are USA corporation's allies) moved in to neighboring houses to spy on Inventor. The same can be extrapolated to neighbors around Inventor's office.
Shops / businesses (at least the boards / names / chains) along the way the Inventor travels have been modified, altered, changed on a daily or short-term basis; To invoke a specific reaction from the inventor or listen to his comments on the names / chains, or listen to what he has to say.
Office and vehicle have been bugged. Inventors mobile, smartphone, tablet, hand-held devices, computers, laptops; office computers, telephone lines, internet network, car, helmet, other vehicles; all could be bugged for such large valued inventions, to continuously spy on him.
Food vendors may have been bribed to slip drugs into food. In this context, the new drug patent applications filed by D1 (Janssen USA / J&J USA) in the last 12 years must be evaluated; to see if they used drugs slipped to me (via food) as a means of trials to launch new drugs. In a broader analysis, all new drug patent application filings by USA pharmaceutical companies in last 12 years must be evaluated. ​
Attractive young women may have been paid to parade in front of the inventor or draw his attention; further to understand what type of attractive young women the inventor likes. This is in lines of trapping the Inventor into the 'Honey trap' technique; after knowing that he is a straight hetero-sexual male.
Emotional targeting of inventor has been done for long. After 12 years, Inventor has learnt to deal with business as business and take legal course and not get emotionally hurt for irrelevant accusations / attacks.
Further, emotional flares could be triggered in the lines of religion, caste, city, state, nation, family group, friend's group, university level, work (IT) industry level to disrupt the thinking of inventor and derail the entire country India.
Personal attacks on Inventor could be at any levels. In this regard, USA and USA corporations D1, D2 and D3 have tried every possible angle to attack the Inventor personally. One method of attacking inventors in USA to steal inventions is targeting mental health / psychological health of Inventor. That approach was also taken by D1, D2, D3 and in particular D1, as it is a pharmaceutical company which used fabricated content, creating documents, material, reports, content, possibly even audio, video or movie clips about inventor to fully highjack the invention from Inventor and India. I state that any such content must me met with my response statement, comments and arguments; to counter any of their allegations. Further I state that any audio, video or movie clip recorded to show me in bad light has been full planned by D1, D2, D3; fully orchestrated, staged and recorded after drugging me to invoke a specific physical or emotional or any other reaction. This statement holds good to any audio, video or movie clip recorded by D1, D2 or D3; despite the timestamp on the recorded content.
In targeting me, USA and its corporations D1, D2, D3 have used a lot of NRI's (who are American citizens now and this point must be noted from loyalty, love for nation and patriotism angle) and their families in USA and may be their families in India, by bribing them, or giving them a paid vacation package, promotion at job or simply ordering / commanding them. I don't consider these order takers as people of any value or importance. A strong rule in business, international trade or deals, government conversations or interactions; is always engage with the decision makers only and not any one below. In targeting me, many Indian citizens who were family once upon a time, or relatives have been bribed to make negative remarks or comments about me.
Over-analyze and over magnify irrelevant subjects, topics, even accidental photo shots from across the life of Inventor and create, fabricate stories, lies and further create irrelevant psychological theories to attack the inventor. USA and its corporations D1, D2, D3 have over-magnified such irrelevant stuff and dumped many stupid / shit / crappy psychological theories to attack the inventor. As inventor, I very confidently state that all such psychological theories are nothing but nonsense, fabricated lies to steal the invention and destroy India's future. Additionally, NO Indian court or Judge; No court / Judge anywhere in the World and certainly ICJ will not make decisions based on random, lies based, fabricated psychological theories. Certainly not when the motive in Trillions of Earthlings is clearly defined and such high valued decisions or judgements cannot be made on unproven, created, stupid psychological theories. Any judgement or court decision is made only by facts that are proven beyond any reasonable doubt and theories, stories, and most importantly unproven psychological theories stand no chance. The judge or court may challenge USA and its corporations to prove any theories beyond reasonable doubt before even presenting such theories to court.
Inventor's proposed counter-attack: As a return of favor to USA and UK, I request every Indian citizen, all of India, in fact all 188 countries in the World, if not the 191 countries, to now over-analyze and over magnify every step, decision, approach, event, strategy taken; war(s) waged, international law(s) broken by USA and UK in the last 600 years of Earth's history and expose the horrors, attacks, death, destruction, war inflicted on the World by them. At least for the next 50 years, there will be books, TV shows, documentaries and movies made all over the World about what USA and UK did to hold pole position for last 600-years across the globe. In fact, in this regard, you don't need to over-analyze or over-magnify anything. Just bringing out true stories, real testimonials, real events from every country in the World, will give all creative workers so much content to write and direct documentaries and make TV shows or movies.
Further, USA and its Corporations D1, D2 and D3 have taken one or two accidental photo shots and fabricated theories and stories based on that. In a counter proposal, I want to present 1000's of photographs from my childhood, until now and apply similar logic and present analysis. In particular, photographs taken from year 2000 until now, or from year 2007 until now, clearly showing the changes depending on the way USA targeted me. These factual stories must be presented to the World.
As the richest man ever, at 93 Trillion valuation, I will also present all personal life events from my birth until now; as USA and its defendants D1, D2 and D3 seem to have attempted to dig up my entire life from birth and fabricate / create and introduce new  psychological theories with no grounds or merits or factual proof of such theories. I shall be happy to present all personal life events, if situation demands.
In general, I do sense that due to global curiosity about my invention, creations and wealth; invariably several authors would choose to write books about me covering professional, personal, creative sides of my life as subjects or my biography in entirety. The work, inventions and creative output delivered will anyway be extensively covered by many authors in all global languages across the World.
This is what Billions of $ investments / bribes can do to steal Trillions. I may not be able to prove any of the paragraphs in this section in any court.
Chaos theory – They have tried to apply Chaos Theory to predict my creativity and future work. The problem is the number of variables will tend towards infinity; for any sort of predictions concerning a human brain. The theory however has helped the perfection of meteorological science and its output of precise predictions for climate and weather. Applying it to human behavior and specifically to one person and his creativity has failed. The best predictions they have made are about my food and local city travel patterns.
Confuse anyone and everyone in a multitude of ways and methods; to derail the invention and its benefits to Inventor, India and the entire World. They attempted to confuse me and India in any which way they could think off. I suggest India and the rest of the world, to bring for itself and themselves the 'Clarity in thought' by eliminating and wiping out all the 'Confusion, misdirection' and chaos created to divert, distract and steal the Wealth. I have always operated or strived to operate with 'clarity in thought' by eliminating all layers of confusion, acts and distractions created by USA and its defendants. I suggest the same for all of India and the entire World.
Movie industry has been paid or lobbied to make customized movies about me by D1, D2 and D3. While drugging me and framing me was one approach; it is possible that D1, D2 and D3 have used 'Latest available graphics and animation technologies' available with Hollywood or other film industries to create and fabricate movies on me. By create and fabricate; I mean totally created untrue videos or movies; in order to frame me. The technology used in the movie 'Avatar' is supposed to put any face into animated videos and the emotions to the face are induced by the 'emoticons' expressions that have become popular on social media. Apparently sensors are attached to track movements of facial muscle to capture and transmit to the animated video with any face in it. Such technology makes any video (certainly audio) recordings non admissible into courts. Despite, I state that any such content must be presented to me to record my statement and response to it. Further, customized TV shows may have been made for me. It is possible that even sports tournaments may have been engineered by schedule or result/outcome for me.
This is what Billions of investments / bribes can do to steal Trillions. Taking bribes and drama to different levels to take over an entire city, control its traffic pattern etc. E.g., City of Austin or Bangalore or any other city in the World.
USA and its corporations D1, D2 and D3 have used some movies as inspiration to target me. E.g., Stating that they would make weak as 'Army strong'; based on movie 'A Few good men' in which the general kills the trainee in the name of making him strong. D1, D2, D3 the employer and clients to me, were inspired by the movie 'The Firm'; wherein the main character's life is fully surrounded and manipulated for the corporate motives. They have also been inspired by 'The Trumann show' to create drama at a city level and target a person. This is what Billions of investments / bribes can do to steal Trillions.
Separating all such drama and chaos from FACTS – Mathematical certainty:
Keeping all the created chaos, confusion, drama on the side; lets separate facts from drama. It is a Mathematical certainty, a mathematical fact that my invention [patent # US 8.910,998 B1 and its related PCT global applications] will create over 1000 Trillion in economic activity over next 100 years; easily. The number will go well beyond it. This is an undisputable fact. Additionally, Inventor claiming 10% is also an absolute legitimate claim. This is also a realistic fact and the claim is mathematical certainty. By this I mean, my claim of 93 T is very reasonable, realistic, not exaggerated, and will be supported by everyone (people) and all countries in the World. The reason is that this invention is not something that can be denied or rejected or ignored. The mathematical fact and numbers will show over the next 100 years. So, we must deal with it; and I have proposed the correct way of dealing with this; the right way of resolving this invention subject. This will further be unanimously accepted globally. Because of this, all of India will support me and my invention. Further, the World (all 188 countries) will support this deal / settlement / final outcome; as India with such wealth will procure products / services from many countries, thus driving business, wealth and growth to those countries. Simply put, India's success will mean World's success, success of 188 countries. So, this proposed solution (cash out model of Inventor and India) will be supported by everyone.
This is the only solution as defined by me. I have written to media houses and others to share any better solution they can think off. The answer has been silence. I can confidently state that, the solution I have proposed is unanimously accepted by people all over the World and by all the World countries. It corrects the flawed system; and delivers success to the entire World.
What are the worlds options? Think about it.
Stay in a structured environment or in unstructured environment?
Stay as a Lawful planet or a Lawless planet?
I would think 99.9% of all humans and countries will say we want a structured environment and a lawful planet. Not a lawless planet or animal type unstructured planet.
Today's flawed system. UN (5 organs of UN in NYC, currently reporting to White House) must not report to USA. The correct way, improving the current structure is to have USA, UK report to UN; in the same way the other countries do. All 193 countries reporting to UN is the correct structure to govern and operate the World. You will have a system in place. A structure that is not flawed. In fact, corrected, bettered resulting in better governance and peace & prosperity.
Other points of view:
The World will say, let the entire world be poor or entire world be rich. What is better? Everyone 'Not Haves' or 'Everyone Haves'? My direction / solution / improved governance structure will drive World towards Haves; as in 'Everyone Haves'. While I will take India to 'Haves' by year 2050; depending on the pace of the remaining world; the entire World may become Haves in 100 to 150 years (a guess). Each country may have its own pace of evolving. However, when they emulate my work, they will eventually get there and become 'haves'.
After that the UN structure must concentrate on governing 'All Haves' planet in the right 'Balanced way of life' direction; for centuries to come. Better to have a balanced world than unbalanced world.
Think about this yourself. You will realize that what I have proposed is correct.
Think about my proposed solution / the correct solution and the only solution with full clarity in thought. I have always strived to operate with full 'Clarity of thought'; despite all the confusion and chaos USA has tried to create. I request everyone also to take similar approach and you will realize that the proposed solution is the perfect solution to disburse the IP rights to 61 Non-USA countries in a cash out model.
Fire Scam:
If you have read content in all webpages and understood my response to the fabricated Fire scam; I have clearly asked for the separation of two subjects (My invention and renewable). Further stating that once India gets 93 T Earthlings and builds its own treasury; the subject of renewable be discussed and voted in by G-193 and GI-50. Me and India will take up R&D work upon receipt of such formal request.
You must realize that I am ensuring all countries, all people in the World are rightfully informed about such global subjects as renewable; and a well discussed and thought out decision is taken. And that renewable is not used as a scam to derail me and India.
Summary: When the invention is valued at such high numbers, and additionally it is altering the status quo on planet earth; and now ending the 600-year dominance of USA and UK; Inventor causing this has been subjected to attacks from so many directions and in so many different ways. People should learn to stick to facts, legal documents and concentrate on 'Legal course alone' to ensure such inventions are cleanly taken to completion and closure. This is exactly what I have adopted, by shutting out all these tactics and approaches taken by USA and its corporations.
Additionally, I am proud to have invented such a transformative invention; and further coming up with the correct / true and the only way this invention could be handled, disposed and taken to closure the correct way. Now, taking the World in the clean closure direction; by engaging with ICJ and getting things completed is the only stage left. I am prepared and ready to take all of this to completion.
 History:
In the 73 years of Independent India's history; USA and UK never were on the side of India. They never supported India in any cause. They never provided any development funds. World bank ignored India. India being a Hindu country did not deliver 'political mileage' in the global landscape, as there are fewer Hindu nations in the World, as compared to Muslim or Christian. More importantly, from the Cold war days, historically India was an ally with the then Soviet Union and later Russia. 
So, when you look at the first 60 years of Independent India (leaving the last 10 to 12); USA and UK plain simply ignored India and never cared about it in any way. However, in the last 10 to 12 years, their interest has shot up, after this invention as they came here, they showed interest; and one must think and question why this sudden change in history, attitude and approach?
If you clearly think, USA and UK have no good intentions. Any country they have touched or entered, have landed up poorer, more divided, more destroyed; worse, ended in bloody war or death. USA and UK have only inflicted death, disaster wherever they entered. In this case, after my invention in Q1-2007, they knew I was coming back to India and they came here to India, to destroy the wealth I would bring with my invention and wanted to leave the country in shambles and in poverty, despite the 93 Trillion $ / Earthling invention. So, they came into the country with an agenda, to divide and destroy India; and ensure the inventor did not stand a chance.
Simply put, USA and UK have no good intentions towards anyone in the World, and the entire World has been moronic / stupid to let these two countries run the World for the past 600 years; thinking they will do good to the world. Its exactly the opposite. To retain pole position, they have only inflicted destruction to countries all over the World. It is time, the World became smarter, and welcomed 'Project Earthling©' and 'UN Global Governance Model 2020'; so that the World is saved, and all countries can come into 'Peace & Prosperity'. A GI-50 will govern the World much better and with a lot more 'law enforcement in international waters / territories. Local law is for the individual state/country to manage. But the World will become more law abiding, global organizations will become independent and will be better governed; Global treaties will be valued more, and all countries will start to respect each other; resulting in collective 'Peace & Prosperity'.
In summary; all of India must UNITE, COME TOGETHER and support Inventor Srinivas Devathi to claim the full 93 Trillion Earthlings; and not fall for the traps (at various levels, in varying values / amounts) set by USA or UK. Here is the image of the 'Awareness Flier' that I have been distributing to people across Bangalore, in my daily events. 
Inventor – Srinivas Devathi;
September 6th, 2019
Awareness flier distributed in Bangalore, India; is the image to left. The image to right is few personal details about Inventor Srinivas DS.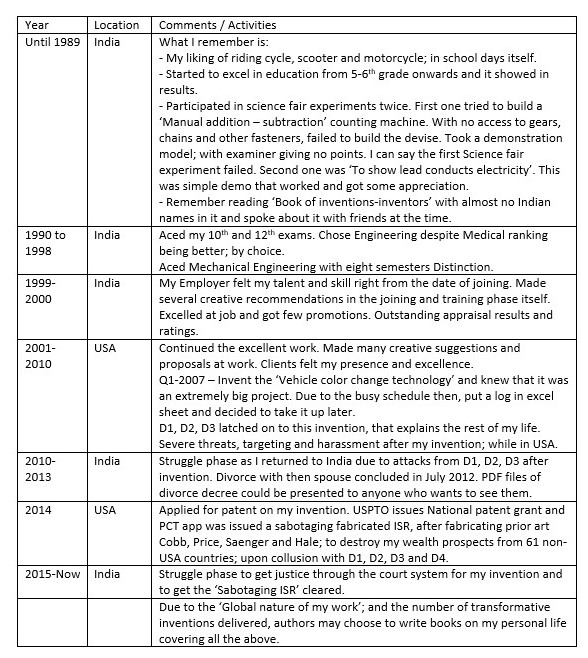 You can Contact the Inventor Srinivas Devathi by sending an E-Mail to Srinivas@Coolcartechnology.Com
Media Publications and Interactions pertaining to Cool Car Technology:
By Deccan Herald, in their Wheels, Automotive Industry supplement, on July 19, 2017.
By Prajavani, in their Metro supplement, on July 19, 2017.
And Few Photographs from first media interactions in July 2017